Limited Edition 2020 Tea Master's Reserve Ceremonial Matcha
30g Tin
下岡茶園
Our Tea Master, Shimooka-san, is one of the most decorated artisanal producers in Japan, with over 50 years of dedication to his craft. Here, he has hand-blended a selection of rare tea cultivars to express the finest flavor organically grown matcha can achieve.
"This lot is the finest organic tencha from Kyoto and Kagoshima prefectures which was cultivated with great care and ground on a traditional stone mill. It features a mellow and well-rounded profile from the fusion of Kyoto Prefecture's rich flavor and Kagoshima Prefecture's refreshing taste."
-Shimooka-san
Maker:
Kyugoro Shimooka, Jade Leaf Tea Master
Origin:
Uji & Kagoshima Blend
Harvest Date:
May 2020
Cultivars:
Okumidori, Asanoka, Kanayamidori, Saemidori, Yabukita, Komakage
Tasting Notes:
Complex, bright, umami
USDA Organic
#knowyourmatcha
We believe you deserve to know who makes your matcha. Treat yourself or the matcha lover in your life to some truly exceptional and rare matcha, crafted by people you now know by name.
Customers Also Bought
Customer Reviews
Write a Review
Ask a Question
01/14/2021
Janet S.
United States
Thumbs way up! No - higher! No - I mean HIGHER!
Of course I love the tea. It's a non-guilty pleasure go-to when I just want to feel good. It's also pretty awesome how fast I get my order! There's been more than once where it could only have gotten to me faster if Scotty beamed it to me. I get something I love really fast. Beam Jade Leaf a few more stars for this review!
12/30/2020
Carmen M.
United States
Matcha
Absolutely love this Matcha-give me the boost I need to go through my afternoon -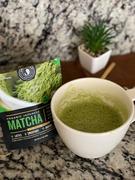 12/23/2020
Tom M.
United States
Jade Leaf Matcha - Nice!
I like the tea very much, especially, when using not too much water. It has a good consistency and nice taste to it.
SO MATCHA GOODNESS AWAITS

Shop Our Collections