Handcrafted Matcha Tumbler
Handcrafted Matcha Tumbler
---
We are so proud to release our first batch of custom-made matcha ware. Handcrafted by Japanese-American ceramicist Lisa Tsubouchi, our matcha tumblers are available in extremely limited quantities — only 30 tumblers are available.
Each tumbler was made by Lisa's hands, on the pottery wheel in her Berkeley studio.
Minimally designed, the earthen white clay beautifully showcases the deep and vibrant green hues of freshly whisked matcha. This tumbler was intended for everyday use and is a beautiful vessel to savor your favorite matcha latte.
INCLUDES
Handcrafted Matcha Tumbler
Full Color Matcha Handbook 
DETAILS
White earthen clay, half dipped in white glaze. The glaze used showcases slight variation in color depending on where it sits in the kiln. Thus, each piece is totally unique and impossible to be exactly replicated — no two are alike!
ABOUT THE ARTIST
Lisa is a Bay Area Native, a professional event planner, floral designer and potter. Her goal is to create functional beauty with meaning. Whether it's a wedding, a piece of pottery or a floral arrangement, she is fueled by attention and intention, making her creations memorable and unique.
She has been a member of The Potters' Studio in Berkeley, CA since 2013 where her main focus has been tumblers and bowls. Lisa is second-generation Japanese on her father's side; Japanese language, culture and customs are a huge part of Lisa's everyday life and identity.
SIZE
Tumblers will vary slightly in size and finish.
~4.5"H x 3"D
~8 oz.
CONTENTS + CARE
Dishwasher and microwave safe. Hand washing is recommended with a non-abrasive sponge. White clays are more susceptible to staining. Matcha residue is easily removed with Bar Keepers Friend and other food-safe soft scrub cleaners. 
SHIPPING
Matcha ware is fulfilled manually in our San Francisco Studio. Please allow 3-7 days to fulfill your order, this does not include shipping time.
---
Customers Also Bought
Customer Reviews
Write a Review
Ask a Question
12/26/2020
LEX C.

United States
Hand made tumbler
Very unique!! I love the markings/color pattern on my tumbler. Color matched with chawan and chasen-tate. Thank you Jules for the color matched sets!!! Looking forward to seeing what the next versions bring. :)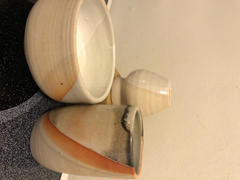 12/25/2020
Erin M.

United States
The perfect tumbler; a true piece of art!
I love this matcha tumbler! the colors contrast with the color of matcha so perfectly and its so aesthetically pleasing. I love that its handmade and so unique. Thank you so much to the artist and Jade Leaf Matcha for always providing top quality products to us matcha lovers!
SO MATCHA GOODNESS AWAITS

Shop Our Collections